TITAN FOAM PUMPS
Titan™ UL Listed rotary gear pumps for Class B Foam Systems. Seven models ranging from 30-500 GPM [115 – 1890 LPM]. Manufactured using all brass and stainless steel components. Timing gear design eliminates rotor-to-rotor contact reducing wear, allowing for run dry conditions and system testing, calibration and training with water.
Titan Foam Pump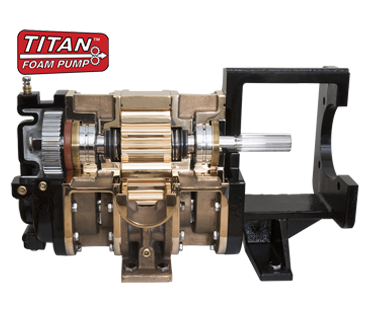 Capacities 30 to 500 GPM
Pressures up to 20 BAR
Design Features
Titan High Performance Rotary Gear Foam Pumps are loaded with a Wide Range of New Design Features.
They are Self Priming and can pump Multiple Viscosities of Foam or Water.
This versatile design is suitable for Electric, PTO, Diesel/Gasoline Engine, Water or Hydraulic drive motors.
Designed for Easy Serviceability.
Timing Gears Allow for DRY Running Without Damage.
Double Row Roller Bearings – Sealed for Life.
Silicon Carbide Mechanical Seals.
Splash Oil Lubrication for Timing Gears.
Download (Pdf) – Titan Foam Pump